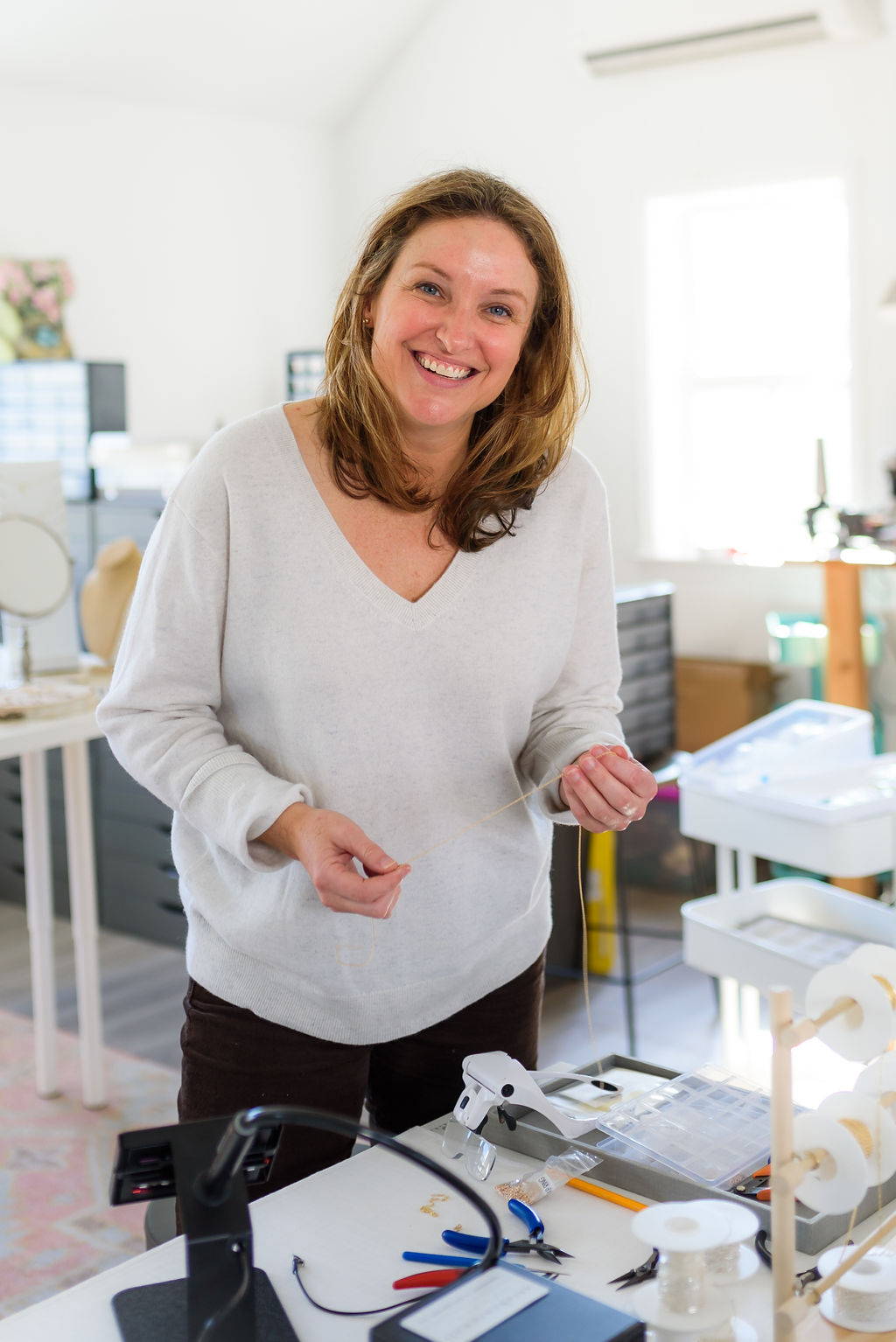 In order to book a time slot for up to 3 people, a $20 deposit is required to hold your day and time. This deposit is refundable up to 24 hours before your appointment and will be discounted from your final total. We cannot offer refunds on cancellations made less than 24 hours before your appointment, however you can apply your deposit toward a new date and time.

Expect about 15 minutes per person. Please arrive promptly so you have ample time to review our chains and charms, make your selections and sign our waiver.
Your selected chain will be measured for a custom fit and then its time for the spark! You will be given a pair of protective glasses and a piece of leather is used to protect your skin from the weld. Our technician then welds the chain together and your Infinity Jewelry is complete!

At check out, care instructions for your new jewelry will be provided. While the jewelry is intended to last with proper care, should you run into any issues or require repairs, please reach out to our team at hello@sarahcornwelljewelry.com for any support you might need.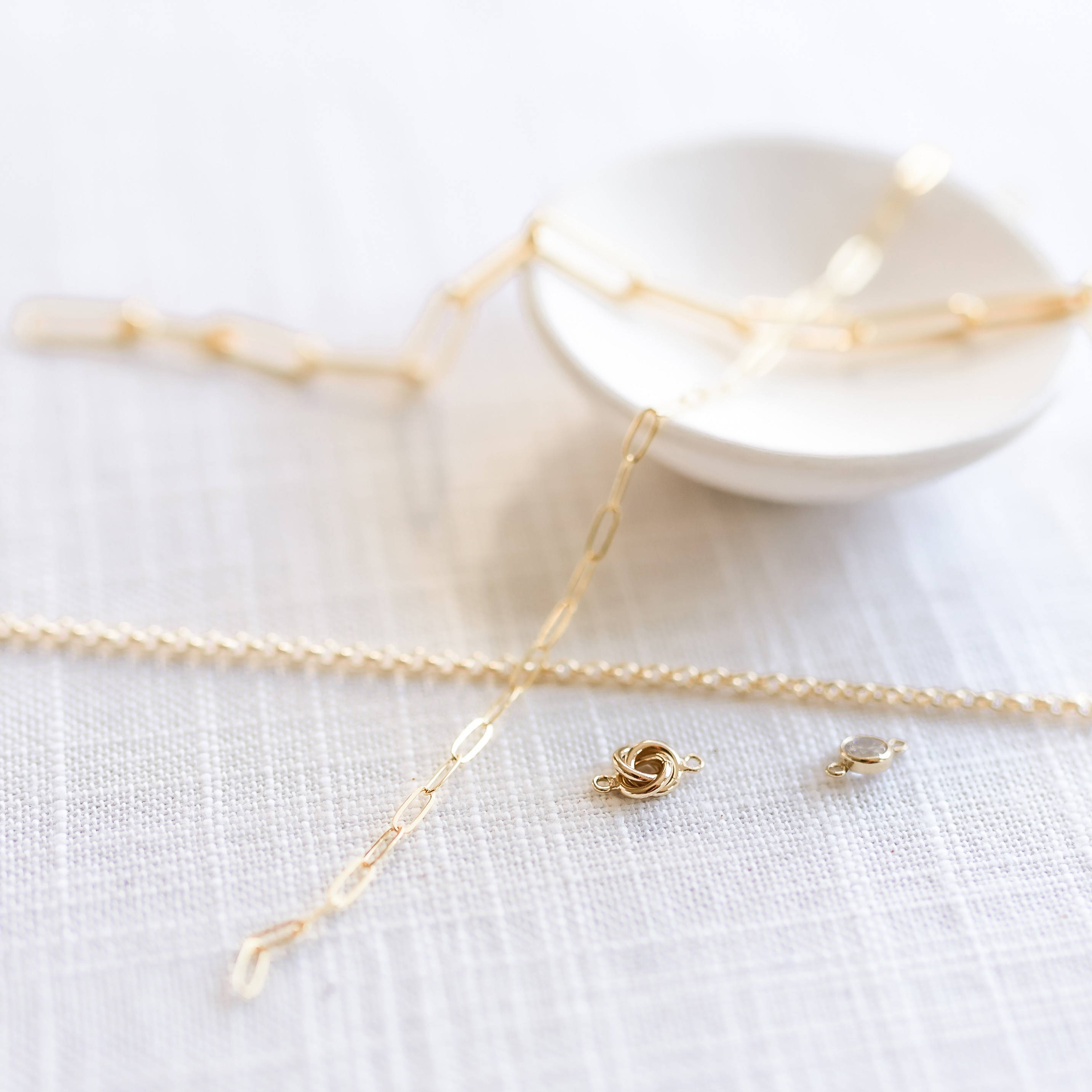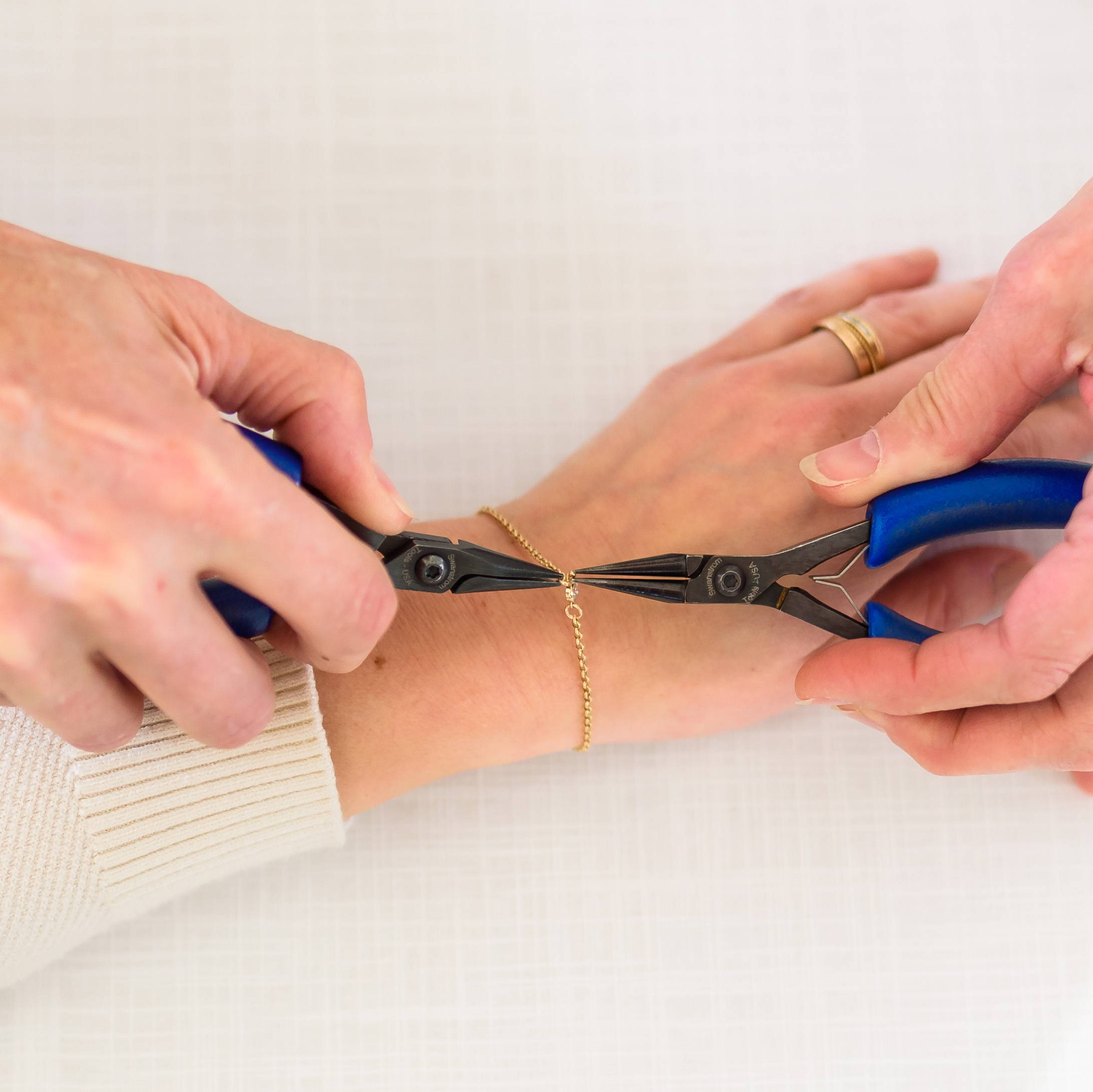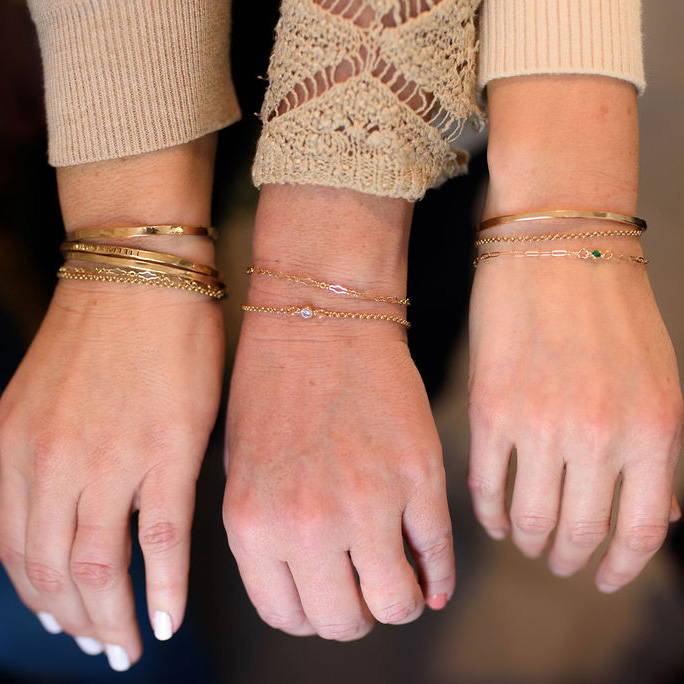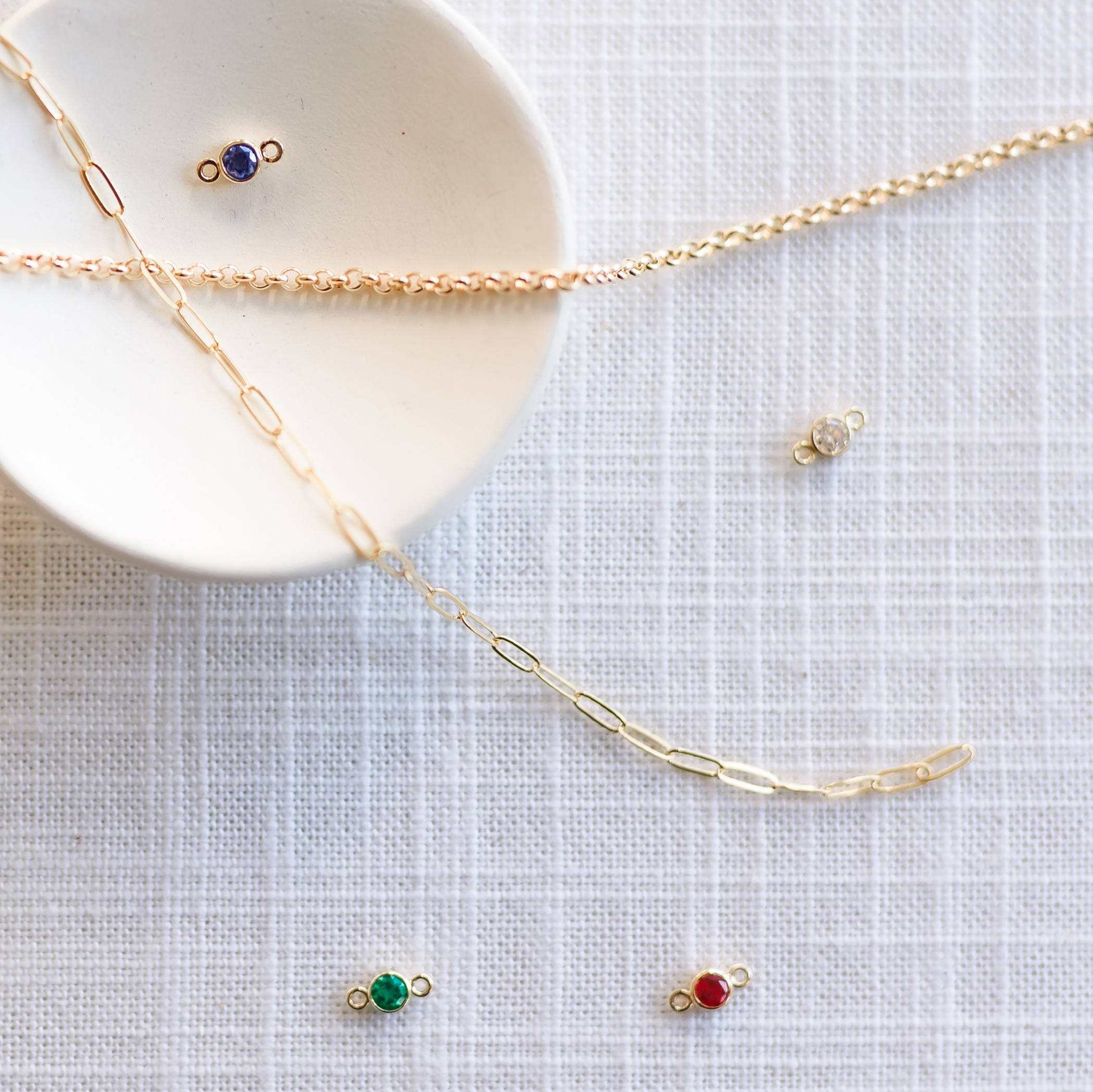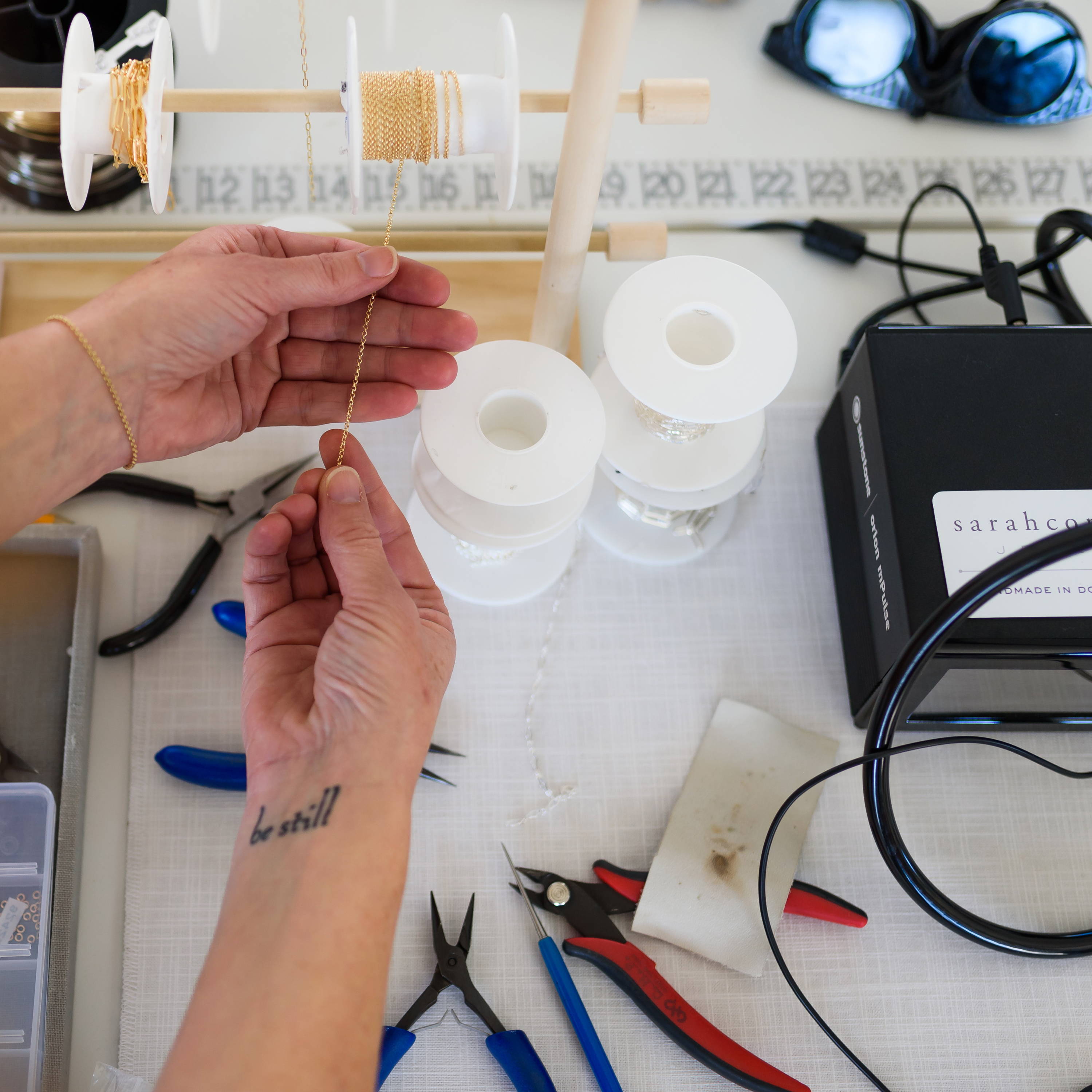 The welding only takes a minute but the measuring and sizing process can take 10-15 minutes.

Can my permanent jewelry break?
Because your permanent jewelry is measured to fit perfectly on your wrist, ankle, or necklace and does not have a clasp, it should not break from normal wear and tear. If it were to break, save the chain and it can be re-welded for a $15 fee. If the chain is lost, a new chain will need to be purchased. Please note that these chains are dainty and lightweight. Your bracelet can also be removed by our staff and converted to a regular bracelet with a clasp at any time for a fee of $15.

Can I get an infinity necklace or anklet?
While SCJ will weld a necklace or anklet for you, we recommend bracelets as they tend to be less prone stretching and breaking.
What metals does SCJ offer?
14K Solid Gold, 14K Gold Filled, and Sterling Silver. Please note that solid gold is the most durable and does not need to be polished to keep it shiny.
Does permanent jewelry hurt?
Nope! There will be a piece of leather to protect your skin from the welding process along with protective glasses.

Can children get permanent jewelry?
SCJ is happy to accommodate younger guests! Anyone under 18 years old must have a parent present to sign the our waiver. Children must be able to sit still during the welding process for safety reasons and we do not guarantee permanent jewelry on any child under the age of 12. We can re-weld any broken chain for a fee of $15.

Chains can be clipped with pair of wire cutters or very sharp scissors. If you can, cut at the weld point as it will be easier to re-weld the bracelet back on. If you need to remove your jewelry due to an MRI or medical procedure please save your chain and we will re-weld the piece for you for a $15 fee. Your bracelet can also be removed by our staff and converted to a regular bracelet with a clasp at any time for a fee of $15.

How do I care for my permanent jewelry?

For 14K gold filled and sterling silver materials, we recommend gently washing your permanent jewelry periodically with mild soap and water, especially after swimming or sweating. Rinse it well and gently pat dry. Sterling silver in particular may require more regular polishing with a polish cloth. With care, Infinity Jewelry will stand up to the wear and tear of everyday use, however we recommend avoiding exposing your jewelry to harsh chemicals and cleansers.